This Space is only for art Lovers, Artist and Writers ,
We work and support 'FREEDOM OF EXPRESSION'
RAINBOW ARTISTS AND WRITERS FOUNDATION
http://albertashoksart.blogspot.com/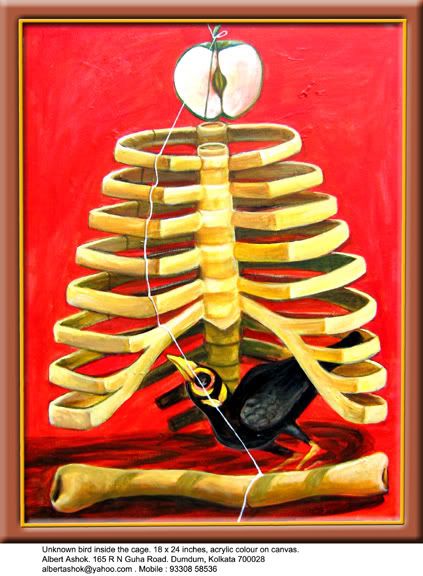 For members and common people -----------------------------------------------------------
To whom it may concern:
"I have built a group name 'Rainbow Artists and Writers Foundation' It is non-profitable organization, and all members of this organization works for the benefit of under privileged artists and writers.
Five years back (2002), some of my acquaintances and me came together with a common view and formed this group or society in good intention that we shall help artists and writers and do some good works in the field of Art and Culture. It is a registered society under govt. of India, society act. (West Bengal Society Registration Act, 1961).
Why we
(

Rainbow

Artists

and

Writers

Foundation

)
are here:
Before our formation of this organization, we noticed that many talented artists could not show his talent in Art and Cultural field, due to economic hindrances and communication with proper and concerned authorities, their works lay neglected, they remain in dark and feel a sort of inferior complex. There are many groups of Art and cultural activities, but all groups are formed only to promote themselves, they don't care about any other artists, may be they feel rivalry, may be they feel some problems. Anyway, unknown and artists from far off places ( – villages , country side and from remote areas) have less privilege and opportunity to show their talents. We believe the said problem can be solved if any organization extends help. So, with good intention and understanding we have formed this organization. We talk to people need our help, and extend help from our source that we can afford. We clearly say the organization never make any money making business, it runs on members subscription and donation (if any wants to make at all ). Till date, we could not go to anybody for donation, nor anybody came forward to donate a rupee! We held a few exhibitions over the last few years in west Bengal. And we are planning to hold an exhibition in other states too. The executive members of this organization have little time after their own jobs and duties for this organization, so, we could not do it bigger project in past, but cherish in mind to do our best in future.
####################
Welcome to the organization:
Rainbow Artists and Writers Foundation
We are very small group with little resources, the guest members join us, when we hold any function, lets say Exhibition in galleries. We see every possibilities to make it big to attract media, make a budget and fund for the particular job involving all participants guest members, we share all expenses from our (participants) own pocket, as we don't have fund at all. If participant do agree with us we proceed and allow to join the guest member for the particular exhibition. How many paintings a guest member can hang in exhibition it is decided in a general meeting. How many participants are in number in that particular exhibition, how many works the gallery room can hang, etc. but the organization offers equal treatment to every participants. As the expense of exhibition is shared by all participants. The organizations liability is only doing the arrangements. Never takes any liabilities nor share any loss or profit out of the exhibition.
Our next exhibition in January 2008 (we have not received a confirmation letter, so, the date can not be mentioned, at Academy of Fine Arts, Kolkata ) We are looking for also some private galleries, where we can hold an exhibition for our guest members paintings and creative works)
Our guest members are those not want to join our society, but need help for exposition of his/ her creative works. The organization only arrange a better platform or state or extend a help for under privileged people, so that they easily can expose them selves. And the organization never takes part in any sort of profit making business.
Guest members are requested to inform about better exposition places like galleries, hall room for art exhibition to be held in his/ her state/city. Because we depend on active help rendered by our guest-members to run activities like holding exhibition in different states.
We don't have Art patrons, Art dealers, nor do we sell paintings or object of art; so, don't expect any favour except group shows. Our guest members are from different states of India. It is members' free will to participate in group shows, or abstain from participation.
In general, we (the organization) scrutinize the art works that to be put in exhibition for display, and reserve right to discard an object of art/ painting from exposition if it feels not suitable, without any notice or permission of the artist created the object.
Secretary: Albert Ashok
Contact:
albertashok@hotmail.com
.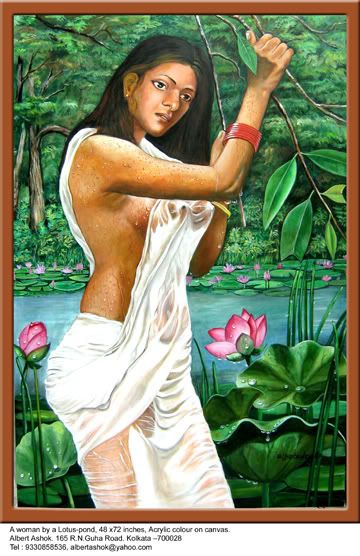 The paintings are for sale
NEWS FOR MEMBERS
1st November 2007
This is to inform all our members outside West Bengal state, That --
72nd Annual All India fine Arts Exhibition is scheduled to be held in January 2008, interested participants can contact to
Academy of Fine arts
address- 2 Cathedral Road, Kolkata-700071 ,
Phone number 033-2223 4302
directly. The paintings can be submitted directly for selection, One artist can submit three paintings, entry fee per painting Rs. 50 only. For further and correct information contact to Academy. ( for any wrong information please check , I shall not be responsible on behalf of Raaw Foundation , we are not linked with Academy)
Lastdate:
16 November 2007
The authority of Academy has
extended the date up to 19th Nov
due to political turmoil,bengal faced a Bandha ( A strike called out on 12 nov 2007)
From 23 Dec 07 to 6th Jan 2008, time from 12 AM to 8PM ,
72nd Annual All India fine Arts Exhibition
at Academy of Fine Arts, Kolkata, will remain open, ticket Rs 5 per head.
#################################################
We are planning to post some poems and short stories here - contact
*************
----------------------------Wish you best----------------------